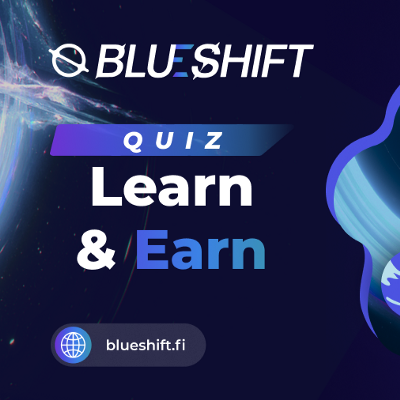 Fellow Shifters!
We are thrilled to announce that Blueshift's first Learn & Earn Quiz will take place on Our Discord server where we will give you a chance to earn valuable prizes by showing your knowledge about Blueshift protocol!
How does it work?
The Quiz will be divided into 2 phases. The first phase is launching today and it will last until 2022–04–24 at 23:59 PM (UTC). In this first phase, every member of Blueshift's Discord server is eligible to participate but needs to follow specific rules:
1. Join Blueshift's Discord Server
2. Click on the 'Open Ticket channel to receive your Quiz ticket
3. Click on the 'Quiz ID' channel to get your code for entering the Quiz
4. Copy your code in the ticket's channel that appeared at the top of Blueshift's Channel list
5. Soon afterward, questions will start to appear and you will be answering them by clicking on reactions beneath the question
6. After you are finished answering the set of 15 questions, you will need to tag the role @ADMIN to submit your try
It is important to remember that you are only eligible ONCE to participate in the Quiz! If you try to complete it more than once, your answers will not be counted!
To keep you up to date, we are going to put a TOP 10 leaderboard every 24 hours in the 'Quiz Leaderboard' channel so you could know where you rank.
Also, if you have any questions or concerns regarding the Quiz, feel free to ask them in the 'Contest Discussion' channel.
NOTE:
*Once You have entered the Quiz ID there will be a slight delay before it starts. Please remain patient.
*There will also be a slight delay on some Questions until they have loaded. Do NOT press any reactions until the question has been fully loaded because it will count as an incorrect answer.
*You can find all articles in 'where-to-learn' to better prepare for the Quiz.
What are the rewards?
We are going to reward the TOP 10 places in the following order:
1st place: 125$ in BLUES tokens
2nd place:100$ in BLUES tokens
3rd place: 75$ in BLUES tokens
4th to 10th place: 50$ in BLUES tokens
However, the rewards are also leading us to the second phase of Blueshift's Learn & Earn Quiz. The second phase will be held LIVE, also on Blueshift's Discord Server, and to participate in it, you will need to receive 5000 out of 15000 possible points in phase 1 of our Quiz!
The right time and date and also the rewards of phase 2 will be determined in the following days, so sharpen your knowledge Shifters, and show us what you got!
Good luck and stay tuned for more information about the following phase of Blueshift's Learn & Earn Quiz!