Blueshift Incentivised User Experience Feedback Survey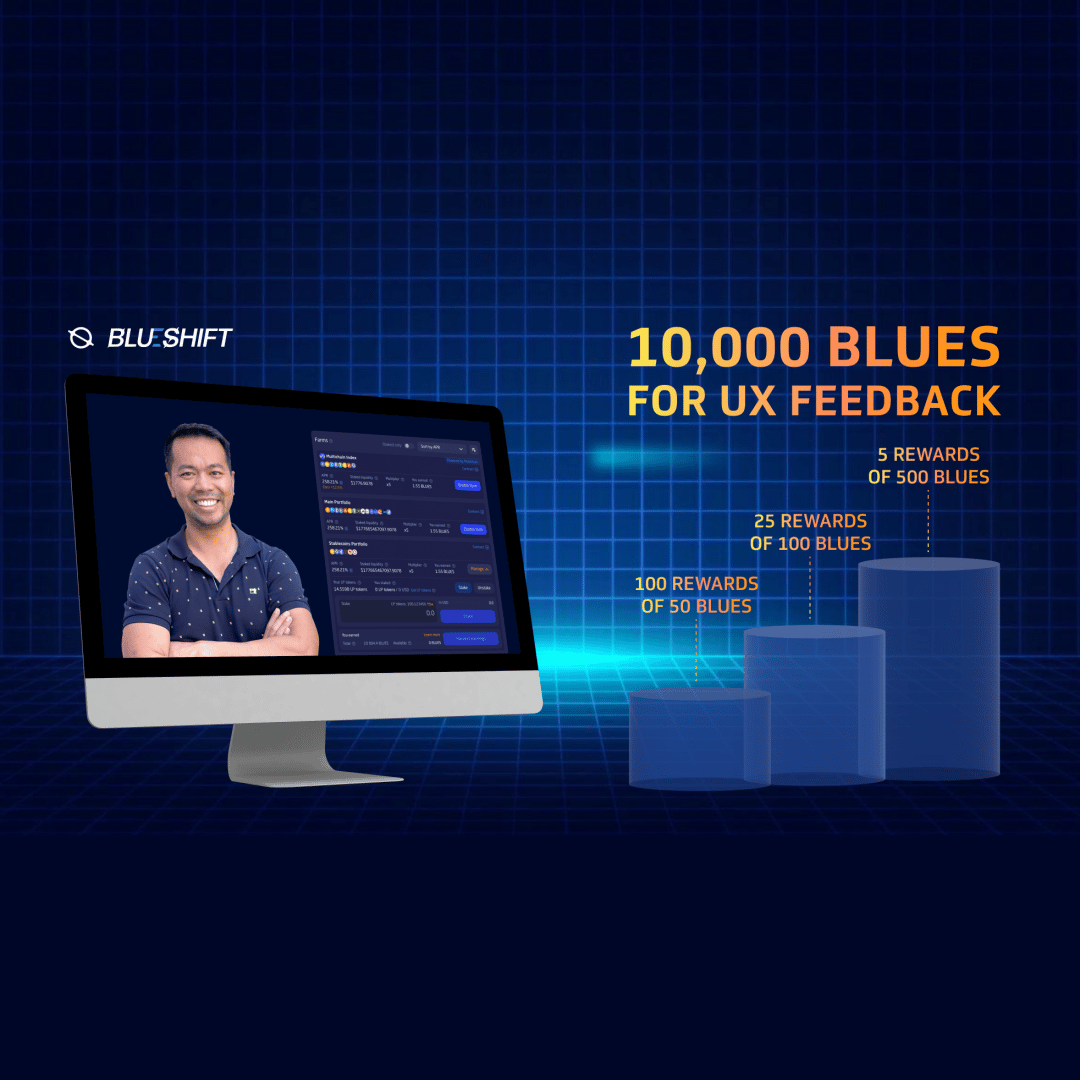 Over the past few months, the Blueshift team have been working on improving the user experience on the decentralised exchange, looking at pain points in the user journey and improving on many aspects.
We are now wanting to gather feedback directly from the community on a user experience feedback survey. We're looking for high-quality feedback and highlighting issues and pain points when using the decentralised exchange.
The Important of Real User Experience Feedback
As a company, we can make assumptions about what our users want and how they want to use our products. But until we ask them directly, we're only ever going to be guessing. That's why user experience feedback is so important.
It allows us to get real insights from the people who matter most — our users. And with that feedback, we can make changes that will improve their experience using our products.
Rewards for Feedback
We understand that people's time is valuable and it is important for us to give back to the community for their contributions. For this, we have secured 10,000 $BLUES tokens to distribute to quality feedback submissions we receive in this UX feedback campaign. We believe this will help encourage more high-quality feedback that will be useful to us in improving the user experience on the decentralised exchange.
The rewards will be given out in $BLUES tokens and will be tiered based on the quality of the feedback. The more detailed and useful the feedback, the higher the reward will be within the limitations of the tiers.
10,000 $BLUES will be distributed to submission Milkomeda wallets at the end of our review process and claimable via our platform.
The Tiered Ranking of Rewards
The top 5 best of the best get 500 $BLUES each
The top 25 great reviews get 100 $BLUES each
The top 100 good reviews get 50 $BLUES each
We value both positive and negative feedback. Please check the qualifying criteria below.
Time for Gathering Feedback
We will run this campaign for two weeks, from Tuesday, 30th August 2022, to Tuesday, 13th September 2022. All feedback must be submitted by 23:59 on the 13th of September 2022 to be eligible for rewards.
How to Submit Feedback & Qualifying Requirements
To participate in the UX Feedback Campaign, you will need to follow the instructions and steps in the Gleam app.
You will need to provide a minimum of $100 USD worth of liquidity and perform a few basic tasks to be allocated points in your review, such as liking a Tweet, RT and following various accounts. After which, you will need to step through a longer form that will take you through the different areas of the DEX to allow you to evaluate and provide feedback on each one.
Minimum of $100 USD of additional liquidity provided on the DEX
Complete feedback form
Following our Twitter and Youtube accounts
Tag a friend on a specific Tweet
Like and RT a specific Tweet
Follow additional links
Provide your Milkomeda wallet address
And hold your liquidity on the DEX while we assess the UX feedback and verify your liquidity provision.
At a minimum, you will be required to complete the entry fields in the Gleam App, fill responses in the survey section and provide at least $100 USD worth of liquidity in evaluating the DEX.
Our team values all positive, negative and constructive feedback in this process as it is a subjective and personal experience.
Please enter via the Gleam link — https://bit.ly/3AZxcAg
How to Be a Highly Graded Submission
Suppose you want your submission to stand out from the crowd, further help the UX improvements for the Blueshift team and potentially be one of the top 5 submissions. In that case, we recommend additional creative contributions to your submission.
This could include video recordings on YouTube, social media reviews, infographics or any other creative way to highlight your user experience and journey on Blueshift. Creative additions will certainly weight our rating and review process.
Express yourself creatively to potentially be one of the top 5 submissions!
If you have any questions regarding the submission process, please reach out to us on Twitter or Discord and we'll be more than happy to answer your questions.
Feedback Review & Distribution of Rewards
The Blueshift team will review all the feedback we gather carefully, ranking the feedback accordingly. Once we have ranked and ordered the feedback, we will be able to allocate the rewards based on our tiered rewards structure.
We will be gathering your Metamask address on the feedback form, validating that you've met the minimum requirements in terms of liquidity on the DEX and allocating the $BLUES tokens to that wallet.
Conclusion
We look forward to reviewing all the feedback and understanding better how we can improve the user experience on the Blueshift DEX. Thank you for your participation!
If you'd like to learn more about our DEX and the mechanics behind certain features, please follow our Medium or read our documentation for more information.