Kava Liquidity Bounty Program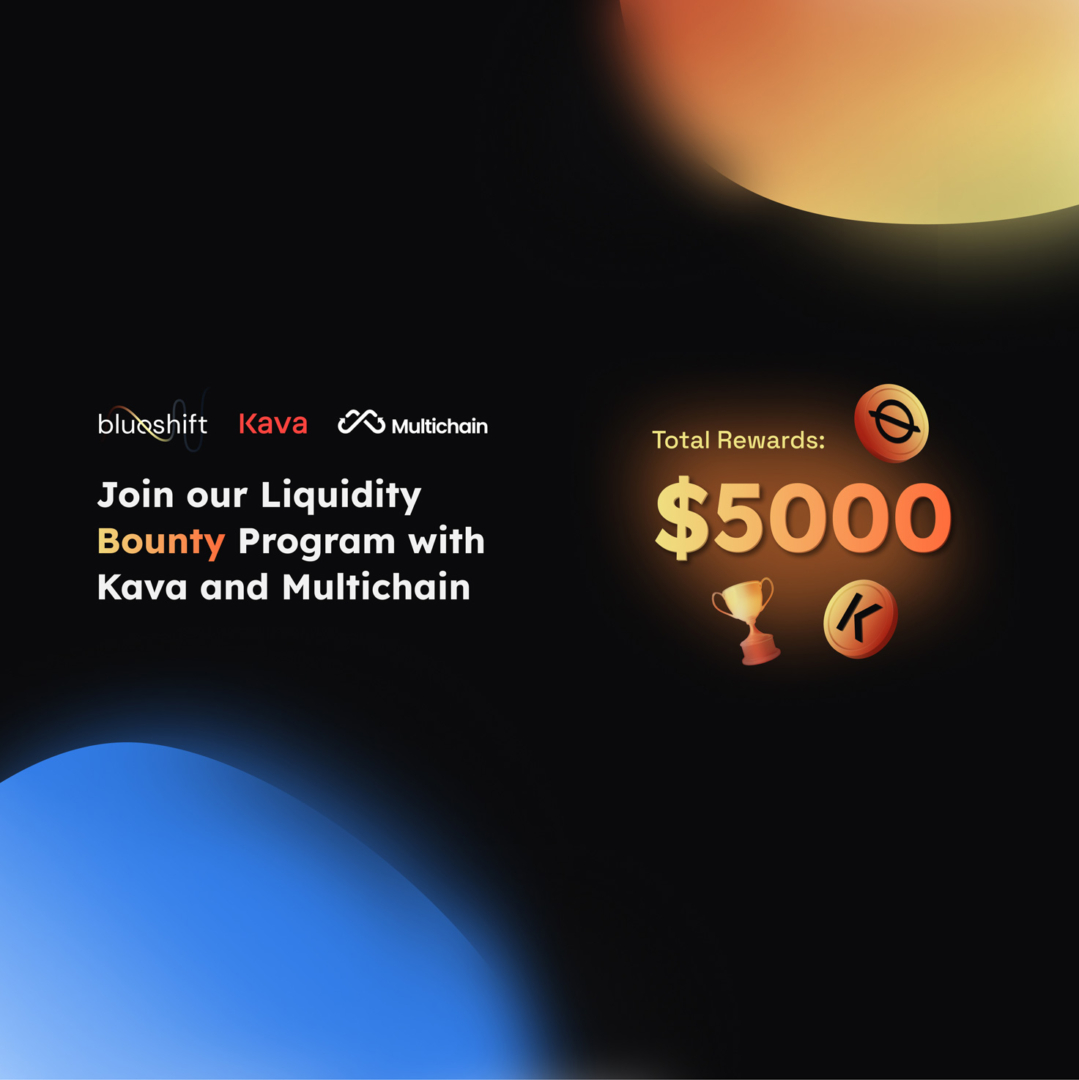 We're excited to announce the Kava Liquidity Bounty Program in partnership with Kava, Multichain and the Blueshift decentralised exchange. As Blueshift continues its expansion to various blockchains, so do our efforts to attract liquidity to and from those chains. We aim to do this in a fun and competitive way.
Liquidity Providers (LPs) on the Blueshift DEX will earn $BLUES token rewards for their liquidity provisioning and a chance to earn a share of $5,000 USD worth of $KAVA. 
Complete all the tasks, submit the responses via our Gleam competition form, and be in the draw to win a share of the prize pool.
How to Participate
Between the dates, 17th March 2023 at 0:00:00 UTC+8 and 7th April 2023 at 23:59:59 UTC+8, users must complete a series of tasks to obtain points. Each point will be a share of the total prize pool.
A full list of the tasks is on our Gleam competition form.
These tasks will include bridging assets to Kava, adding liquidity to the Blueshift DEX and  farming the LP tokens along with other tasks such as following social media accounts and retweeting certain Tweets.
Follow all accounts of Blueshift, Multichain & Kava, including Twitter, YouTube & Discord accounts

Like, repost and tag friends, on various Tweets

Creative task for extra points: Review & post about Blueshift release on Kava in the form of a video or article

Bridge a minimum of $40 USD to the DEX (any token).

Add liquidity to the

Multichain Stablecoin Index

on Kava

Become a Blueshift Referrer
Liquidity will need to remain on the DEX up until the end of the point of competition reward distribution.
The Blueshift team will monitor wallet deposits over the competition period to determine eligibility for a share of the rewards.
Gleam entry form: https://gleam.io/Gd1ta/kava-liquidity-bounty-program
No Bridging Fee
We're excited to announce that our partners at Multichain have waived all stablecoin bridging fees for the duration of our campaign. If you decide to move liquidity from any other chain that Multichain is connected to, and bring it over to Kava and the Blueshift DEX stablecoin portfolio, you won't pay any bridging fees. This is a fantastic opportunity to take advantage of our platform and start trading without any additional costs.
Competition Timeline
The competition will officially start on the 17th of March 2023 at 00:00:00 UTC+8 and end on the  7th of April 2023 at 23:59:59 UTC+8.
Once the competition ends, the Blueshift team will analyse all entries for duplicates, fraudulent entries and general manipulation to ensure a fair pool of entries. This process does take some time and can be up to a period of three weeks while we determine the rewards and their distribution.
If you have questions regarding the competition, please join the Blueshift Telegram channel or Discord server to engage with the team.
Learn More About Kava
Kava is a decentralised blockchain that combines the speed and interoperability of Cosmos with the developer power of Ethereum.
This allows a development team to be connected to various other blockchain ecosystems while easily building on the Ethereum Virtual Machine (EVM), which is widely adopted and used on various blockchains in the cryptocurrency and decentralised finance space (DeFi).
Find out more about Kava at: https://www.kava.io/.
Learn More About Multichain
Multichain, a decentralised cross-chain router, was born as Anyswap on July 20th, 2020, to address the clear need for different blockchains to communicate with each other. It aims to promote interoperability across different networks and enable smooth asset and value transfers through its cross-chain architecture. Additionally, Multichain powers the seamless transmission of data and messages across chains through anyCall, a cross-chain message router that facilitates the building of cross-chain Dapps.
As a leader in the cross-chain sector, Multichain currently connects a growing family of 73 EVM and non-EVM chains through 3,000+ bridges. It is continually pushing multi-chain boundaries to become the ultimate router for Web3.
To start with Multichain, simply connect your wallet, choose the chain to bridge assets to and from, perform conversions, and bridge your assets.
Visit https://multichain.org/ to learn more about Multichain.
Learn More About Blueshift
Blueshift is a state-of-the-art decentralised exchange built on the Milkomeda network, featuring multichain capabilities. The platform enables efficient swaps and cross-chain liquidity movement, as well as single-token liquidity provisioning. Moreover, Blueshift hosts unique portfolio pools that allow for the grouping of tokens, which enhances capital efficiency during swaps and reduces slippage and impermanent loss.
By utilising virtual pairs, Blueshift ensures optimal liquidity utilisation for swaps, and the portfolio pools offer an excellent indicator of the performance of particular portfolio types in the ecosystem, with a total locked value reflecting market fluctuations. Single token liquidity provisioning is also possible through Blueshift's portfolio pool configuration, providing users with easy access.
Furthermore, Blueshift's cross-chain functionality allows for the seamless movement of liquidity across various blockchains and ecosystems with the aid of bridging and cross-chain partners, such as Multichain. To learn more about Blueshift, please visit our website at https://blueshift.fi.
Disclaimer:
Legal Disclaimer for Kava Liquidity Bounty Program
This legal disclaimer (the "Disclaimer") applies to the Kava Liquidity Bounty Program (the "Competition") organised by Blueshift and Multichain. By participating in the Competition, you acknowledge and agree to the following terms and conditions:
Competition Period: The Competition will run from

17th March 2023 at 00:00:00 UTC+8 and end on 7th April 2023 at 23:59:59 UTC+8.

Postponement: In case of any technical problem with one of the partners, the Competition may be postponed. The organisers will make every effort to resume the competition and extend its duration so that its total duration is in line with the period outlined in the rules section.

Rewards after meeting The Conditions: Participants who have successfully completed all tasks specified in the Competition rules sections will be eligible to receive increased rewards pools in the event of the Competition's success. Rewards will be distributed to the various liquidity providers in proportion to the liquidity provided by the participants. 

Daily Rewards: Users participating in daily activities may be eligible to receive a prize from a separate prize pool for completing these daily activities. The final result of the Competition will not affect the distribution of prizes from this pool.

Date Changes: The Competition organisers reserve the right to change the Competition date for legitimate reasons, but will make every effort to conduct the Competition with the utmost conscientiousness.

Outcome: The Competition organisers have no influence on the outcome of the Competition, and the success of the Competition depends on the liquidity participants provide.

Acceptance of Disclaimer: By participating in the Competition, you acknowledge and agree to the terms and conditions outlined in this Disclaimer. If you disagree with these terms and conditions, you should not participate in the Competition.
This Disclaimer is subject to change at any time at the sole discretion of the Competition organisers. It is your responsibility to review this Disclaimer regularly to ensure that you are aware of any changes.