Liquidity Portfolios — the foundation of DeFi 2.0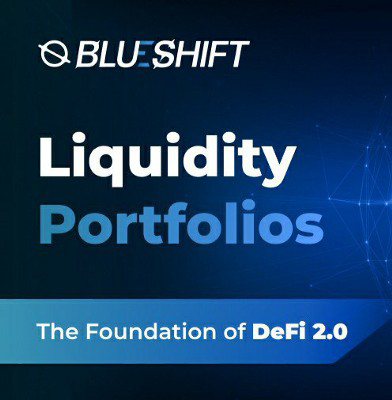 Liquidity portfolios are catalyzing a new era in cryptocurrency and DeFi.
They are the immediate and sorely needed replacement for liquidity pools — the DeFi 1.0 standard. Liquidity portfolios offer new possibilities to both beginners and crypto veterans alike!
By utilizing liquidity portfolios, users can provide liquidity with one token instead of via token pairs which often results in extra swaps for wrapping and liquidity provision. Likewise, when liquidity is provided to liquidity portfolios — the impermanent loss is spread over all the tokens in the portfolio, as opposed to the concept utilized with liquidity pools.
This new mechanism behind liquidity provision allows for an up to 10 times smaller impermanent loss compared to traditional liquidity pools. Plus, the whole portfolio liquidity fuels the swap operation, compared to the liquidity of the concrete pair in other DEXes.
Hence, liquidity portfolios can be described as an advanced version of liquidity pools that contain innovative mechanisms and the ability to contain dozens of tokens in a single portfolio.
Blueshift uses portfolios instead of pairs to facilitate cryptocurrency swaps as well as to facilitate extremely low impermanent loss incurred through liquidity provision.
This is extremely important as the backbone and key drivers of Decentralized Finance (DeFi) are the liquidity providers! By supporting liquidity providers — Blueshift is aiming to boost the growth and quality of the global DeFi ecosystem.
Portfolio Partners
Portfolio partners play a vital role in advancing the global DeFi ecosystem. One of the facilitators of our technological advance are our Portfolio Partners which provided initial liquidity in order to jump-start a relatively large selection of portfolios available to users.
The Blueshift team will constantly add more liquidity portfolios tied to specific trends, industries, key players, or blockchain-niche markets. At the current moment, Blueshift provides eight different liquidity portfolios:
Blueshift Index
Available tokens:
Powered by Celer
2. Ecosystem Index
Available tokens:
milkADA
ceBNB
ceETH
ceAVAX
ceFTM
ceMATIC
ceUSDT
BLUES
3. Stablecoin Index
Available tokens:
ceUSDT
ceUSDC
ceDAI
ceBUSD
Powered by Multichain
4. Multichain Index
Available tokens:
milkADA
multiDAI
multiUSDC
multiETH
multiUSDT
multiBNB
multiAVAX
BLUES
Powered by Normad (security-first cross-chain messaging protocol that provides fast, cheap communication for all smart contract chains and rollups)
5. 3port
Available tokens:
Powered by Occam
6. Occam Index
Available tokens:
milkADA
multiOCC
multiCW
multiCWAP
BLUES
7. Top Metaverse Index
Available tokens:
milkADA
multiMANA
multiSAND
multiAXS
multiAPE
BLUES
8. DeFi Index
Available tokens:
milkADA
multiUNI
multiAAVE
multiSNX
multiSUSHI
BLUES
Flexible and Newbie-friendly
Even though Blueshift's liquidity portfolios are cutting edge technology — it still enables newbies to fully utilize DeFi without knowing the ins and outs of this new branch of Finance.
This is because newbies can acquire a share of the whole portfolio, whereby the changes in the portfolio are delegated to the portfolio managers.
At the moment portfolios are managed by the Blueshift team, however, in the near future — the DAO will be deployed and DAO councilors will be selected. After that, the DAO councilors will select the portfolio managers which will manage their individually assigned portfolios.
The community will be able to vote on the changes proposed by a portfolio manager, while the portfolio managers will be rewarded in case of exceptional performance. This will ensure that the newbies' assets which are essentially portfolio shares — are under expert supervision and management.
An upcoming Blueshift portfolios Campaign
To demonstrate the power of Liquidity Portfolios to our new users — the Blueshift team significantly amplified the liquidity provision & staking rewards. Likewise, Blueshift is about to start a campaign in which each of the available portfolios will be highlighted as well as the Portfolio partners.
This will provide the opportunity for all those that have not yet heard about Blueshift's innovative tech — to get acquainted with what the ecosystem offers!
To learn more about the amplified liquidity provision & staking rewards read this article, and to read about the latest portfolio highlight make sure to follow our Twitter and Telegram Announcements.