Cardano Wrapped Smart Contracts Bounty Campaign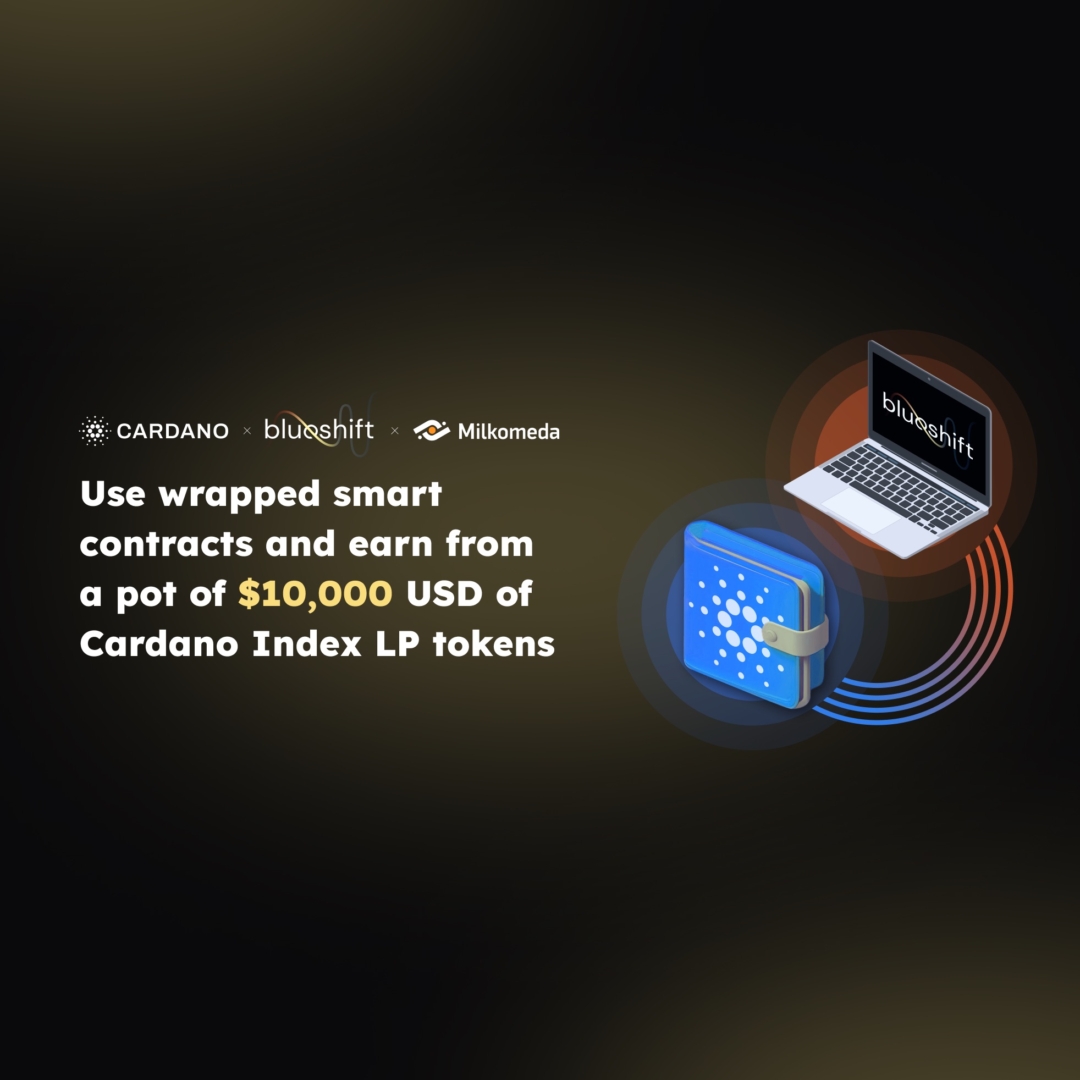 With the launch of Wrapped Smart Contracts (WSC) for Milkomeda, we now have the ability for Cardano native wallets to interact with EVM decentralised applications (DApps) on Milkomeda. This greatly improved the user experience for anyone from the Cardano ecosystem wanting to get exposure to decentralised finance (DeFi), decentralised exchanges (DEX) such as Blueshift, GameFi, NFTs and much more in the growing Milkomeda ecosystem.
Why Wrapped Smart Contracts?
Until now, users who wanted to interact with DApps on Layer 2 had to move their assets from Layer 1.
This migration process to a Layer 2 chain often involves bridging or wrapping assets from Layer 1 to facilitate interactions with smart contracts on the Layer 2 chain. However, this process can be complex, involving multiple steps across different interfaces and requiring more than one wallet. Milkomeda's Wrapped Smart Contracts presents an elegant solution that streamlines the user experience by eliminating the need for multiple wallets and provides a unified interaction flow between the Layer 1 and Layer 2 chains.
When using WSC, a smart contract is deployed on Milkomeda's Layer 2, bound to the user's specific Layer 1 address. This smart contract serves as an account abstraction, possessing a balance, a nonce, and the ability to execute signed transactions on behalf of the user.
Users can connect to DApps that support WSC using their Cardano wallets, which will generate an EVM address for them. Unlike an Externally Owned Account (EOA), this address doesn't require users to manage private keys. Instead, users can create transactions on Layer 2 and sign them using their Layer 1 account.
Users will no longer have to manually bridge assets to Milkomeda from Cardano or use Ethereum-based wallets to interact with DApps on Milkomeda.
Flagship Index on Blueshift
One of the flagship portfolios on the Blueshift DEX is the Cardano Index, which comprises four key projects building on the Cardano ecosystem and providing value to their communities and users. It consists of Cornicopias ($COPI), NMRK ($NMKR), VyFinance ($VYFI) and Blueshift ($BLUES). Together, these project tokens are an indicator of the strength of the growing Cardano ecosystem.
Launch Campaign
As a part of the launch of wrapped smart contracts, we'd like to invite you to experience what it is like to interact with our cross-chain portfolio-based DEX and try swapping and providing liquidity via the Blueshift DEX using your Cardano native wallet thanks to the Milkomeda team and the use of Wrapped Smart Contracts.
During this time, we'll have a boosted APR for the Cardano Index, allowing liquidity providers to the Cardano Index to enjoy boosted rewards for participating in the launch of Wrapped Smart Contracts.
The Milkomeda team have also been kind enough to sponsor a further $10,000 USD worth of rewards in the form of Cardano Index LP Tokens for those liquidity providers that move and lock in their liquidity for at least two weeks.
For this campaign, we are running a lottery for the prize pool where the amount of liquidity staked to the DEX acts as ticket purchases for the prize pool.
For each $10 USD added as liquidity and staked to the Index to the DEX, you will receive 1 lottery ticket. Each lottery ticket will be allocated to the wallet addresses that have successfully provided liquidity for the required period to the Cardano Index.
The requirements are as follows.
Requirements
Move at least $10 USD of liquidity into the Cardano Index
Stake your liquidity to the Cardano Index
Join our Discord or Telegram Community
Share your experience using Wrapped Smart Contracts on social media
Hold your liquidity in the Cardano Index for at least 2 weeks, (14 days).
Engage on the Zealy Sprint
There is no limit to the amount of tickets a user can obtain.
For example, if you provide $1000 USD of liquidity to the Cardano Index, you will get 100 raffle tickets.
Liquidity Assets
Liquidity can be provided by any asset that is used to make up the Cardano Index. This includes:
Cornicopias ($COPI),
NMRK ($NMKR),
VyFinance ($VYFI)
Blueshift ($BLUES)
and ADA itself
Campaign Timeframe
The campaign will start 4th September 00:00 UTC and end 29th September 00:00 UTC.
There will be an additional 2 week lag after the campaign for the final data snapshot to accommodate users that provide liquidity at the last moment. This data snap shot to ensure users that provide liquidity right at the end of the campaign will be done on the 13th October 00:00 UTC.
Distribution of the Rewards
The $10,000 USD of rewards are in the form of Cardano Index LP tokens. This will give users options to move assets or continue staking their rewards upon distribution of rewards.
The distribution of rewards will be done in multiple divisions.
Division 1: 1 Winner of $1000 USD
Division 2: 3 Winners sharing $1000 USD
Division 3: 5 Winners sharing $1000 USD
Division 4: 10 Winners sharing $1000 USD
Division 5: 9981 Winners sharing the remaining $6000 USD
Overall, there will be 10,000 winning tickets allocated to the rewards.
This is a fair way to allocate tickets and potentially winnings for users. A liquidity provider that provides only $10 USD of liquidity still has a chance to win the Division 1 prize pool but doesn't discourage larger holders from providing liquidity.
The tickets will be drawn on the 16th of October 2023 and announced by all of our social channels and website.
New Era for Milkomeda
Wrapped Smart Contracts is a huge milestone for the Milkomeda ecosystem and Blueshift, allowing Cardano users to seamlessly interact with our DEX and other DApps built on Milkomeda without leaving the Cardano environment. It improves the usability and overall user experience and opens up more DeFi options for Cardano users.
We at Blueshift are excited to participate in this transformation and look forward to welcoming more Cardano users to our ecosystem.
If you'd like to learn more about Wrapped Smart Contracts or implement your own solution, please refer to the WSC documentation provided by the Milkomeda team.