Blueshift and Tekmirio Bring Utility to the Pepe NFTs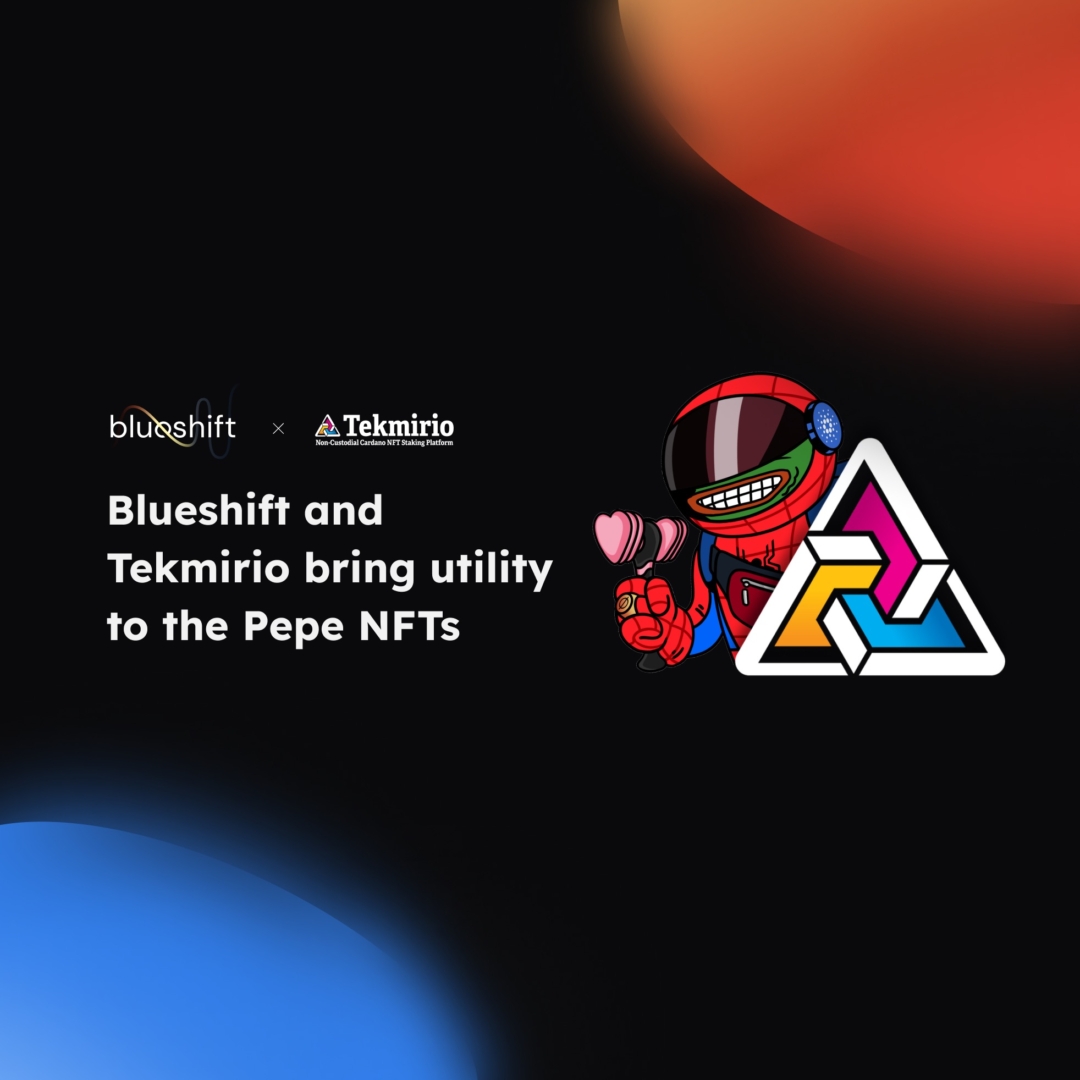 Blueshift is excited to announce a strategic partnership with Tekmirio, the non-custodial staking platform built within the Cardano network. This collaboration aims to bring utility to the Blueshift Cross-chain Pepe NFTs by enabling their staking on Tekmirio's platform.
About Tekmirio
Tekmirio is a cutting-edge staking platform developed to address the specific need of token reward distribution within the Cardano ecosystem. What sets Tekmirio apart is its non-custodial nature, ensuring that your NFTs remain securely in your wallet while still participating in the staking process.
By using off-chain calculations, the platform scans the contents of your wallet without requiring the actual possession of your tokens. This provides an extra layer of security and peace of mind, knowing that your valuable digital assets are safe.
Why This Matters for Blueshift's Pepe NFT Holders
Blueshift has been continually working to offer more utility and value to its Pepe NFT holders. This partnership with Tekmirio opens up an avenue for earning additional $BLUES tokens simply by staking your Pepe NFTs. The collaboration is a step forward in expanding the value proposition of owning these unique, digital collectibles.
How It Works
To participate, visit the Tekmirio platform and connect your wallet. Once your wallet is connected, the platform will scan its contents. If your wallet contains Pepe NFTs, you will automatically begin accruing $BLUES tokens as rewards. The website offers a transparent tracking system that shows exactly how much you have earned over time. Moreover, you can collect your tokens whenever you wish, offering full control over your rewards.
Upcoming Changes
In light of this exciting collaboration, Blueshift will be raising the minting price of its Cross-chain Pepe NFTs. Effective from September 19th, 00:00 UTC, the price will increase to 20 ADA per mint. We have previously communicated this price change through our social channels. If you've been considering adding a Pepe NFT to your collection, now would be the opportune time before the price hike.
You can buy an Blueshift Pepe NFT via NMKR.
What's Next
Blueshift and Tekmirio are finalizing details such as the start date of this initiative, the exact reward amounts, and specific configurations of the Tekmirio platform that will best serve the Blueshift community. Further announcements will follow shortly.
Final Thoughts
The Blueshift-Tekmirio partnership signifies an innovative advancement in the NFT staking space, especially within the Cardano ecosystem. It not only provides an opportunity for NFT holders to gain additional utility from their assets, but it also sets the stage for more collaborative efforts aimed at enhancing the value and functionality of digital collectibles.
This collaboration is yet another example of how Blueshift is committed to creating a more dynamic and rewarding experience for its community. Keep your eyes peeled for more exciting updates as we continue to redefine the possibilities within the NFT landscape.