Holiday Liquidity Provisioning Competition BONUS Bounty Program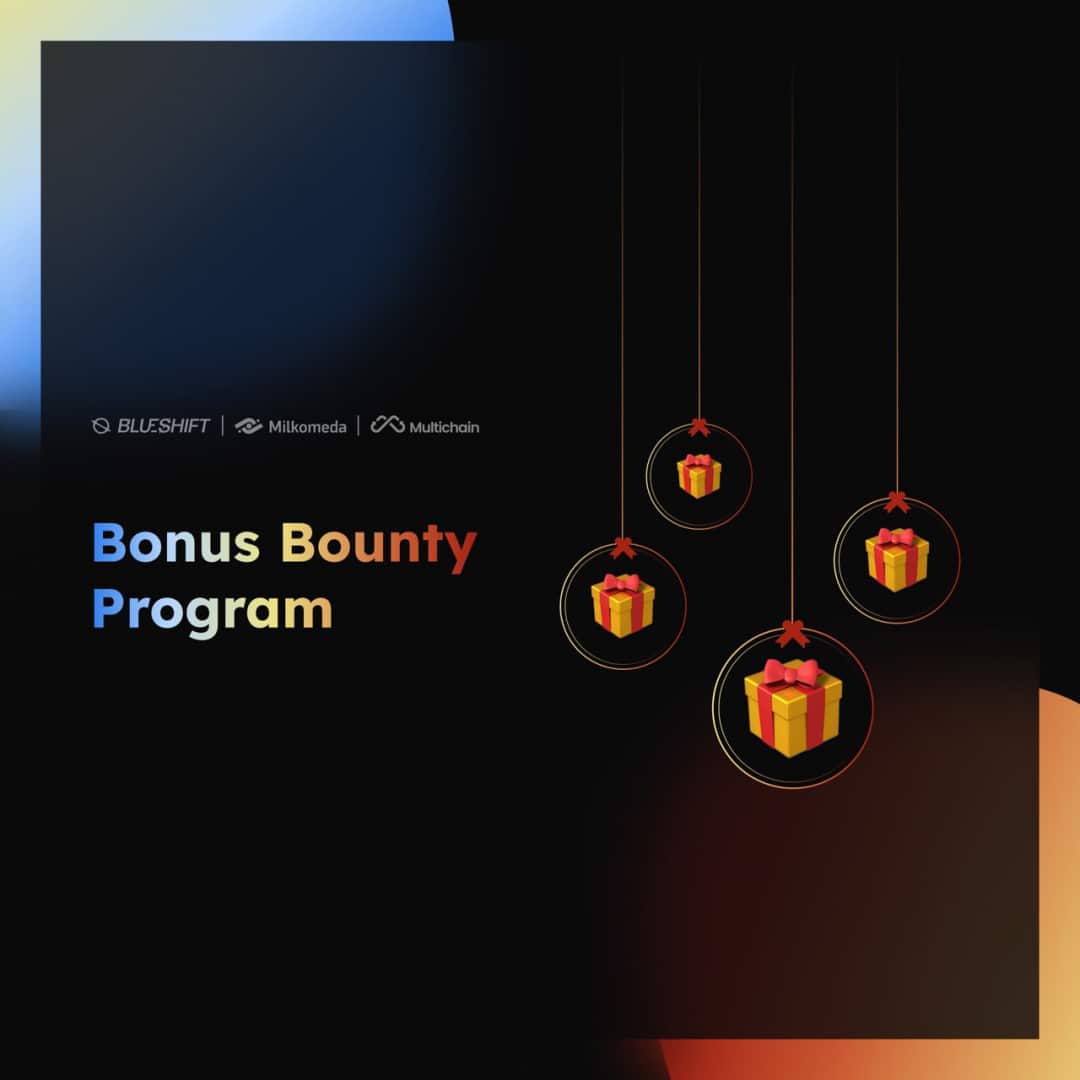 As a part of our Holiday Liquidity Provisioning Competition, we have a Bonus Bounty Program to get everyone involved with the entire process and reward participants whether or not the Holiday Liquidity Provisioning Competition goals are met.
The Holiday Liquidity Provisioning Competition is a partnership between Blueshift, Multichain and Milkomeda to drive $1M in liquidity to the Blueshift decentralised exchange (DEX), built on Milkomeda via the Multichain bridge. Meeting the goals will unlock further rewards that will be distributed to the providers and participants in the Holiday Liquidity Provisioning Competition.
As a part of the Bonus Bounty Program, the Milkomeda team have kindly contributed a further $5000 USD worth of assets for all participants. $4000 will be distributed to users on the Milkomeda Cardano C1 and $1000 distributed to users on the Milkomeda Algorand A1 Rollup.
Every day of the campaign, we will have certain tasks that participants can complete. Each of these tasks is worth a certain amount of points. At the end of the period, the points will be added up and applied to the rewards multiplier to give users a share of the total rewards prize pool for the Bonus Bounty Program.
The tasks involved will include simple tasks such as retweeting certain tweets, to performing swaps on the Blueshift DEX.
How to Participate
If you want to be a part of the Bonus Bounty Program, simply follow the Blueshift Twitter account @blueshiftfi for the daily updates and tasks you will need to perform.
As you perform the tasks, you will need to log them on our submission form, where we will track and rank all the responses.
If you start the program late, you can pick up the tasks later and complete them at your leisure as long as they are completed before the closure date. The Bonus Bounty Program will run between 00:00 on 24th Dec 2022 (UTC+8) to 23:59 on 6th Jan 2023 (UTC+8)
Ensure you follow the Twitter thread for the Bonus Bounty Program from the Blueshift Twitter account for the daily tasks.
Important links to bookmark
Conditions on Entry
During the time frame of the Bonus Bounty Program, from 23:59 on December 24, 2022 to 23:59 on January 6, 2023 (UTC+8), you must:
1. Complete daily assignments published on the official Blueshift channel on Twitter. You have until January 6, 2023 (UTC+8) to complete the task.
2. Complete the form with a special document. The form will be closed on January 6, 2023 (UTC+8).
Reward:
Each completed task is assigned a certain number of points based on difficulty. The prize fund will be distributed among the participants based on the total number of points they have earned.
Social accounts used during the campaign must be personal accounts.
The liquidity provided on the Blueshift DEX must remain until the end of the Bonus Bounty Program, 23:59 on January 6, 2023.
More about Blueshift
Blueshift is a portfolio-based decentralised exchange protocol built on Milkomeda that offers capital-efficient and decentralized liquidity portfolio management with low impermanent loss, low price slippage, and high APRs.
It goes beyond the features offered by competing DeFi platforms which include single-token liquidity, virtual pairs, internal pricing oracles cross-chain interoperability, liquidity portfolio and a controllable minting schedule of the BLUES token. These features provide users with an enhanced decentralised finance (DeFi) experience unparalleled to anything currently available in DeFi.
More about Milkomeda
Milkomeda is a groundbreaking new protocol that brings EVM capabilities to non-EVM blockchains. It provides developers access to all of the tooling from the EVM ecosystem, such as building, deploying, debugging and auditing. This will significantly broaden the selection of dApps available on supported L1 blockchains, with security consistency among deployments. Milkomeda also enables startups to access the talent and resources of the Solidity community, while building on chains like Cardano, Algorand, and Solana.
Currently, there is EVM-based sidechains connected to Cardano (Milkomeda C1) and an EVM-based Rollup connected to Algorand (Milkomeda A1). Follow the steps in the guide to quickly get started using Milkomeda. Future innovations in zero-knowledge technology will be implementable as L3+ solutions on top of Milkomeda.
More about Multichain
Multichain is the ultimate Router for web3 and an infrastructure developed to enable arbitrary cross-chain interactions. It was born as Anyswap to provide services to different blockchains that need a secure, reliable and inexpensive way of exchanging value, and data and exercising control between them.
Multichain has become a leader in the cross-chain field, with over 26 blockchains and daily volumes reaching $100 million. It is widely popular due to its high security, Total Value Locked now exceeding $5 billion and thousands of users on a daily basis. This makes it an ideal choice for consumers looking for fast, secure and reliable ways to interact with different blockchains.