Launch of the Blueshift Pepe Cross-chain NFT Collection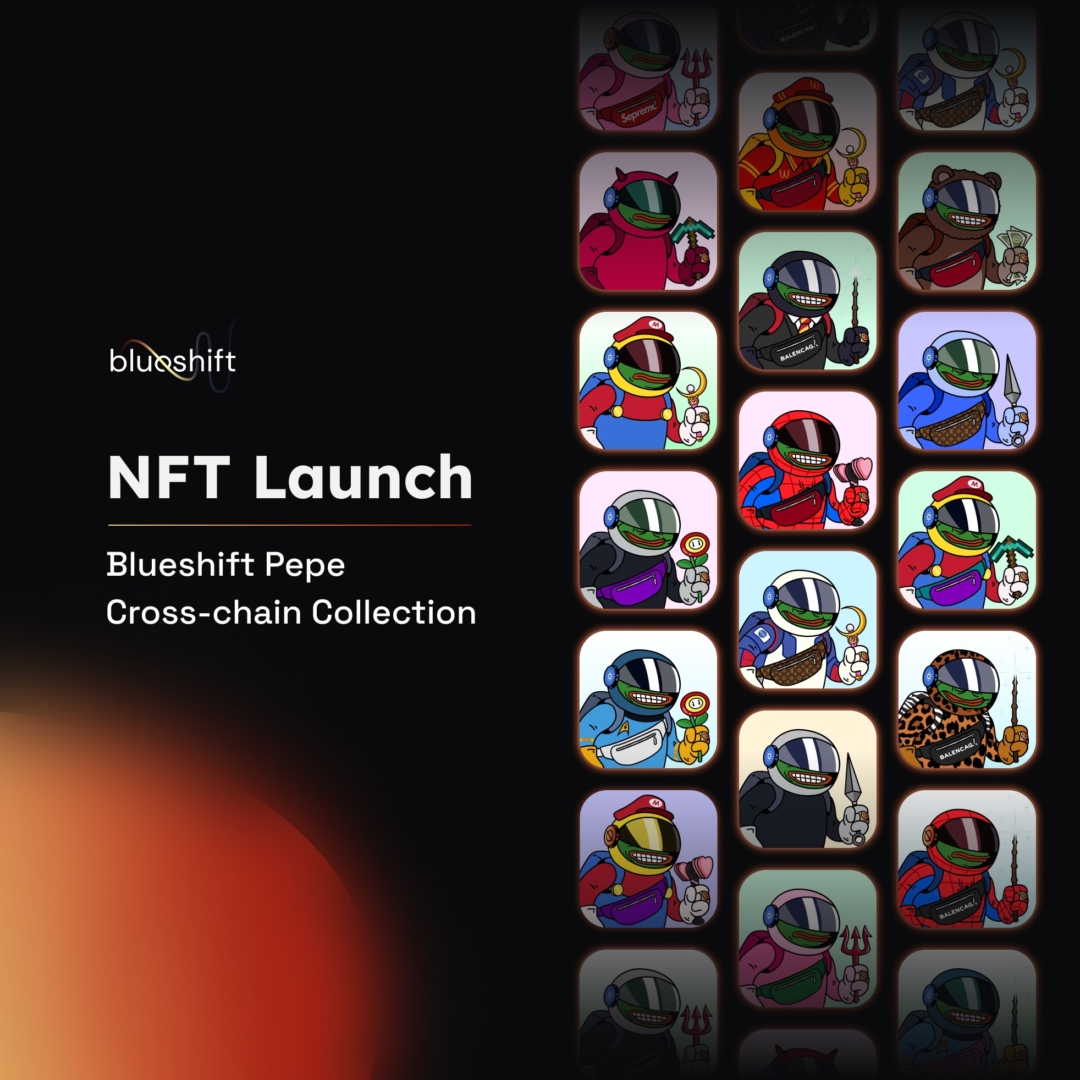 We are thrilled to announce the launch of our cross-chain protocol, BluesChain, and to mark this momentous occasion, we are excited to present the Blueshift Pepe Cross-chain Collection exclusively for all our loyal supporters within our ecosystem.
Inspired by the vibrant world of pop culture, we have meticulously curated a unique and captivating Pepe collection that we believe will resonate with our diverse user base.
The complete collection of Blueshift Cross-chain Pepe's will be 9,999 pieces but split over three chains. The first is Cardano, the second is Polygon and the third we will keep as a mystery for now.
Each chain will have ⅓ of the supply which means 3,333 Pepe's will be minted on Cardano.
Utility will vary from chain to chain and we are excited to experiment with cross-chain NFTs.
Mint Date and Availability
To ensure a fair distribution and give everyone a chance to participate, the whitelist mint date has been set for Friday, 11th August at 13:00 UTC. You will have the entire weekend to mint your whitelisted NFT.
For those who missed out on the whitelist opportunity, don't worry! You still also have a chance to get on the whitelist by participating in our Zealy campaigns. Please ensure that your Cardano wallet address that you plan on minting from has been added to Zealy.
We are also rewarding our communities' biggest contributors. The users that have been with us on many AMAs, are always commenting on our Twitter posts, always engaged on Discord and Telegram and helping others with their questions when entering the Blueshift ecosystem.
The public mint will open just three days later, on Monday, 14th August at 13:00 UTC, so mark your calendars!
Cost
We are thrilled to share that the minting price for each NFT in the Blueshift Pepe Cross-chain Collection will be a nominal 10 ADA. This cost covers the minting process through our esteemed minting provider and valued ecosystem partner, NMKR. 
We see this as a gesture of gratitude to our vibrant community and supporters of Blueshift.
Utility and Staking Rewards
Beyond the inherent value of owning these iconic NFTs, we are actively exploring various utility functions for our Pepe collection.
While the exact details are being finalized in collaboration with our partners who are integral to our ecosystem, we are committed to creating staking opportunities for NFT holders. Staking the NFTs will unlock additional rewards, creating an engaging and rewarding experience for our community.
As our cross-chain ecosystem grows, we'll expand utility across the different chains.
Stay tuned for further updates as we unveil more about the staking mechanisms and rewards program. We are eagerly looking forward to sharing these exciting features with all of you.
Join us as we embark on this journey with the Blueshift Pepe Cross-chain Collection. Your support has been instrumental in making this possible, and we couldn't be more grateful for your continued enthusiasm.
If you'd like to learn more about our cross-chain protocol, please read over our articles about the launch of the BluesChain Cross-chain protocol and read over our Blueschain whitepaper which details the technology behind it all.