Celer Ending Support on Milkomeda Algorand A1: Transfer Your Assets from A1 to C1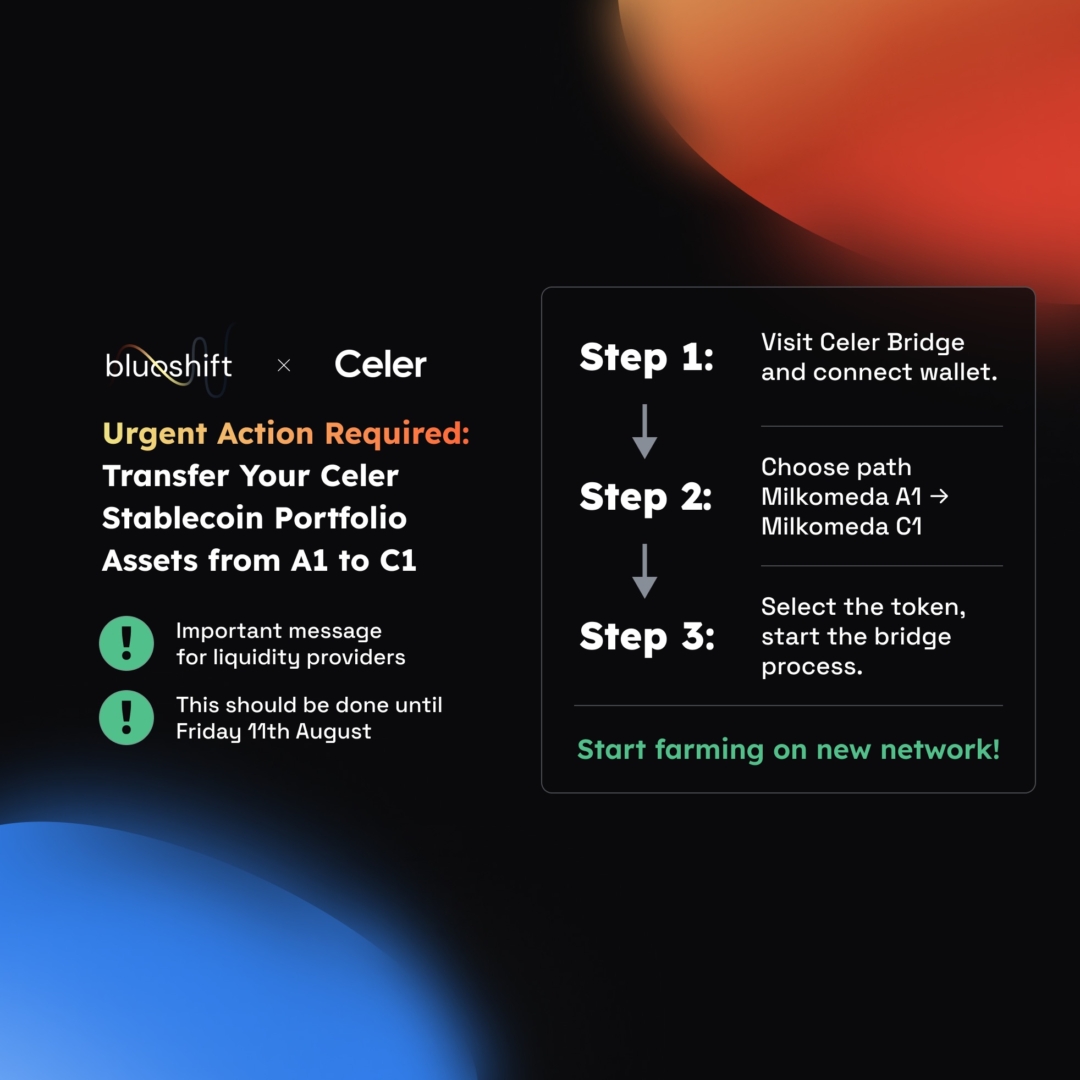 We regret to inform you that our Celer Liquidity provider has taken the decision to move their liquidity out of Milkomeda Algorand A1 Rollup. Consequently, the Celer Stablecoin Portfolio will be closing in the near future.
To ensure a seamless transition and to safeguard your assets, we kindly request all users with liquidity in this portfolio to initiate the migration and bridging of their assets away from A1 to C1, where there is currently more liquidity available. Rest assured that C1 will remain supported by our partners before any further liquidity movements occur.
As a courtesy to our users, we have extended the migration period until Friday, 11th August. We urge all liquidity providers to complete the transfer of their assets out of Celer's Portfolios before this deadline, as after this date, our support for A1 will be discontinued.
We understand that transitioning from one network to another can be unfamiliar territory for some users. To assist you through this process, we have prepared a comprehensive, step-by-step tutorial outlining the procedure for migration using the Celer Bridge. This guide aims to simplify the migration process and ensures that your assets are securely transferred to the desired destination.
How to Bridge Assets to Milkomeda Cardano C1
The only option that is viable on the DEX is to bridge out the assets from the Celer portfolio via their bridge to another ecosystem.
Visit the Celer Bridge website
https://cbridge.celer.network/1/56/USDC
Connect your wallet and choose the FROM network as Milkomeda A1 (Algorand).
For your TO network, we recommend Milkomeda Cardano C1 Sidechain.
Select Milkomeda C1
Select the token that you want to bridge and set the amount to bridge.
Check the fees and start the bridge process.
Now that your assets have been bridged, we recommend starting your farming again on the new network to ensure your liquidity continues to work for you.
Rewards accumulated on the A1 side will still remain for you and users will be able to swap from A1 to C1 as soon as we have completed the implementation of the cross-chain swaps between the two networks.
Approve the transaction and your assets are now being bridged from A1 to C1.
We sincerely regret any inconvenience this may cause, and we are committed to making this migration as smooth and efficient as possible for all our users. Our team is available to assist with any questions or concerns you may have during this migration period.
We would like to emphasize the significance of initiating the transfer as soon as possible, as the Celer Stablecoin Portfolio will no longer be supporting Milkomeda Algorand A1. We are dedicated to preserving the integrity and security of your assets, and timely migration will help us achieve this objective.
Thank you for your understanding and cooperation during this transition. We remain committed to providing a secure and reliable platform for all your liquidity needs. Should you have any questions or require any assistance, please do not hesitate to contact our support team on Telegram or Discord.