Shima Capital and Blueshift Fireside Chat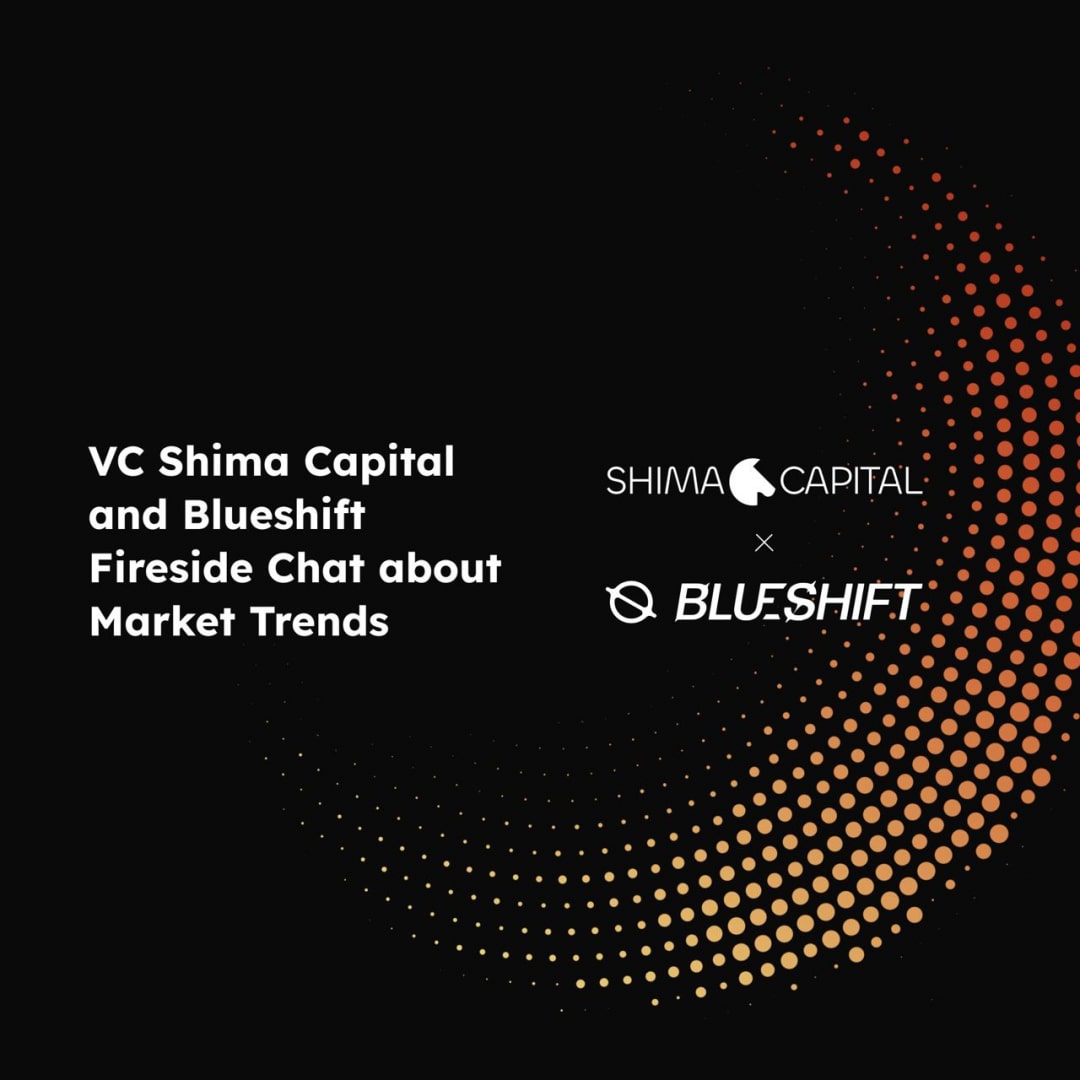 Cory: Hi, everyone. I'm Cory Ross, head of marketing at Shima Capital, an early stage VC firm investing in all things web3. And we're going to talk to Igor Mikhalev, CEO of Blueshift, one of Shima's portfolio projects. Blueshift is a crosschain dex based on a unique portfolio management approach.
Igor: Hi, everybody. It's Igor Mikhalev here from rainy Amsterdam. Happy to be here.
Cory: Same here. So in the first part of our conversation, we'll learn a bit more about the Blueshift, and then we'll move on to market trends and talk about what it takes for DeFi projects to survive the crypto winter. So first question, Igor, what is your crypto background?
Igor: Yeah, so I've been in crypto for over seven years. A couple of years ago, I was responsible for the crypto topic at the Boston Consulting Group BCG, where I've been working for Charles Hoskinson in the capacity of project leader there. I got to know Cardano's team pretty closely and in my own time, at some point, I've decided to found and build Blueshift, which is a decentralized portfolio based DEX. But next to that, currently I'm also working for EY-Parthenon in the capacity of partner in emerging technologies and digital ecosystem strategy, where I help companies big and small to transform towards decentralized business models and become more web3 native.
Cory: Wonderful. So how did the team form and what's the story behind Blueshift as a collection of people?
Igor: Yeah, absolutely. So through the years, together with the team involved in Blueshift, we've been building things like CBDC tracker, so Central Bank digital currency tracker, which is the number one in the world source for fresh data on CBDC's; been working on DAO Pulse, which is a similar type of approach but specifically for tracking quality of decentralized autonomous organizations. We've done different types of work for commercial banks as well for traditional incumbents in the space trying to go web3 native. So this combined with my interest in Cardano, which I mentioned after having worked with them and understood the ethics behind Cardano. At some point I sat down with one of my friends from MIT who joined a San Francisco based community of people excited about fair launches. We thought "Hey, let's combine all that". So Cardano, fair launch ideology and our desire to build a new tech for DEXes. A tech that doesn't necessarily base itself on a pair based approach, but introduces a portfolio based approach. So we put it all together. And that's how the first generation of Blueshift was born around two and a half years ago. And we as a team came around it because we really like the deep technological and deep scientific aspects of our work.
Cory: Great. And what exactly makes Blueshift unique?
Igor: So what makes Blueshift unique is the same notion as what made an interesting and evolutionary approach around indexes in traditional stock investing. So you have different types of automatically traded funds which have different stocks added and removed based on different types of metrics. Same approach we use for Blueshift. Where you're an investor, you don't invest in one particular token, but you invest in a bucket or portfolio of tokens which we will have carefully crafted for you through our DAO. And that's what makes it very different. And once several tokens exist in a certain portfolio, you know, fragmentation itself goes down as well because you don't need to anymore have different pairs containing the same token. You have a portfolio that contains all of them and you can trade against the aggregate liquidity, which reduces slippage, which reduces impermanent loss and adds to the efficiency of that liquidity. So that's what makes it unique.
Cory: Wonderful. And is there any more you can tell us about how portfolios work?
Igor: Yeah, sure. So portfolios work on the basis of internal oracles that help to mitigate price fluctuations and also portfolios currently work on the basis of cross chain exposure. So again, once you have staked multiple tokens inside one portfolio, you as an investor can choose to hold it this way, or you can withdraw only one, or you can add only one after that. And once it's exposed to multiple blockchains you can trade between chains without the need for bridging all the time, and then you can use multiple chains to actually perform that type of swap or trading or investing, which again raises capital efficiency and makes it a new standard in terms of usability. So that's the core of the portfolio.
Cory: Wonderful. And what is the latest portfolio that Blueshift launched and how is it going?
Igor: The latest portfolio that launched is called Cardano Index. This is a major milestone for Blueshift because it's the first major index for the blockchain ecosystem that we have launched. It should act as a performance indicator for the overall Cardano's ecosystem and gives you a crosschain exposure to various projects. We have carefully crafted the composition of the portfolio by talking to Cardano's ecosystem. So we have some of the best projects in there, some of the most exciting ones, such as VyFi, NMKR, Cornucopias, so all of them are there and they have launched their presence on our DEX just recently. Once again, this also together with the crosschain capability that we have added recently, provides you as a Cardano investor, exposure towards Algorand and vice versa. So you as an Algorand investor, as native Algorand user can also get exposure to Cardano Native assets, which is a strong answer towards the promise of Web3, which is connecting all the various disconnect bits.
Cory: Thank you. So now that we learned about Blueshift, let's move to the second part of the conversation and talk more about the market. So what should a deep dive project do to navigate successfully through the crypto winter?
Igor: Yeah, so I think many projects are going through the soul searching space currently. I think the number one is to understand how exactly you provide tangible utility to the users. So what exactly is that core unique utility that makes your product go useful as opposed to just a pure speculation game? So I think that is number one in this kind of market downturn. So therefore sometimes it means you find priorities. It is, of course, optimizing your budget because you need to survive through the winter, you need to develop features that you find useful. You need to make sure that you are well connected with the rest of the DeFi building blocks. So to say, you need to explore new ecosystems because constantly new ecosystems pop up and you need to know what your place is in those ecosystems. And surely you need to leverage partnerships as you work in those new ecosystems. So there's a lot of more active work with regards to community building and building features that are exactly useful and have clear utility for the end user.
Cory: And what exactly is Blueshift doing during the crypto winter?
Igor: We have doubled down on our crosschain protocol and in less than a month it will be complete and allow for what was explained with crossshain liquidity swaps. Without the need for bridging, you'll be able to swap in the exchange, assuming a token is in a certain portfolio on Blueshift. And also you'll be able to use aggregate liquidity from both chains to be available for swaps that are possible without bridging. So it's a completely new level with regards to capital efficiency and crosschain user experience. And then of course, after that, we also will add other chains in case of Blueshift is clearly synergistic because of the liquidity idea. So we are expanding to other chains. We have just done Algorand and we right now are working on deployment to Kava. And of course, eventually we also connect to the core L1s ones as well.
Cory: Are there any questions you wanted to throw my way?
Igor: Yeah, maybe it would be interesting to know which trends you see in your portfolio projects during crypto winter yourself? What is there that now seems to be different from the previous time?
Cory: So right now, I'd say one of the biggest trends that we're currently seeing with our portfolio is, when possible, that they're holding off on token launches, so no TGEs at this moment until there's a little bit more stability in the market. So hopefully regroup it in the spring and see how that goes. And then on the gaming side, capital has a fair number of gaming companies in this portfolio. It's pretty much business as usual because it's basically always a good time to play video games.
Igor: Yeah, absolutely. How do you adapt to new market conditions in terms of having enough liquidity? In terms of raising new capital?
Cory: Right now, you know Shima Capital is relatively new in the grand scheme, a lot of us have been in this space for a while, like yourself, and survived the last Crypto Winter a few years ago. And one of these lessons from that time, if you remember, is that during bear markets, this is when successful projects are born. So as long as it's financially responsible, now is the time to be building the next big success story in crypto. And that's what VCs are still looking for, even during different times.
Igor: Awesome. Thanks.
Cory: Just to keep it going, considering your involvement in the crypto market, and as a head of emerging technologies that you are partnered on, which scenarios do you see for the crypto markets development?
Igor: Yeah, I'm glad that you asked about scenarios because hopefully nowadays it's clear for everybody that there is no one size fits sold pathway or future single future answer towards that. So, we've done a bit of analysis and we think that there are key critical uncertainties around the future scenarios before we go into scenarios. And those uncertainties are first of all the regulatory response. So how exactly the industry will be regulated. After the issues with FTX, after what happened with all the hacks and different issues with the protocol liquidity being drained very quickly, that hurt investors. So what exactly would be the regulatory response, right? Will it be crypto native? Will it be very restrictive? So that basically is a big, big uncertainty in there. Next one I would say is the performance and scalability promise of blockchain based ecosystems. Will there be enough resolved for blockchain based ecosystems to serve, for example, payments based use cases or central banks currency use cases? Next one is surely the hegemony of national currencies. Will it prevail or will people start doubting national currencies and maybe USD, Euro, Pounds will be all volatile and shaky and people will stop using them for store failure types of use cases. And the last one for me is the geopolitical conflicts and pandemics. Will there be more of that or not? Because during the time of conflicts and big issues like pandemics, people feel more empowered to use gray zone types of means of payment or means of value storage. So I think on the basis of those scenarios we will have various types of futures. So one of them can be explosive. Adoption of crypto in case regulation will be favorable, but there will be a lot of instability in the world or in this case truly, especially if technology allows and performance scalability issues solved, exposure adoption is almost guaranteed. But on the contrary, in case regulation will be restrictive, the world will be super stable. You know, technology will not deliver its promise. Scalability will still be an issue. Well, then there's a bit of a demise for the decentralization type of future that I can envision. Somewhere in between it can be a slow burden, it can be a bit of a trade market type of scenario as well. It can also be in case the regulation will not be decisive, but performance scalability issues will be resolved so that banks and payment companies would simply use technology to boost the new innovation cycle in the financial services industry. I can also see a future like that. So that probably is enough in terms of potential futures as you see, it is based on the four core uncertainties that I mentioned.
Cory: Really great answer. Thanks a lot and thanks Igor for your time. That's all the questions that we have right now in the first Shima Blueshift Fireside chat. This is really great.
Igor: My pleasure. Thank you very much.