The Polygon Index is Coming!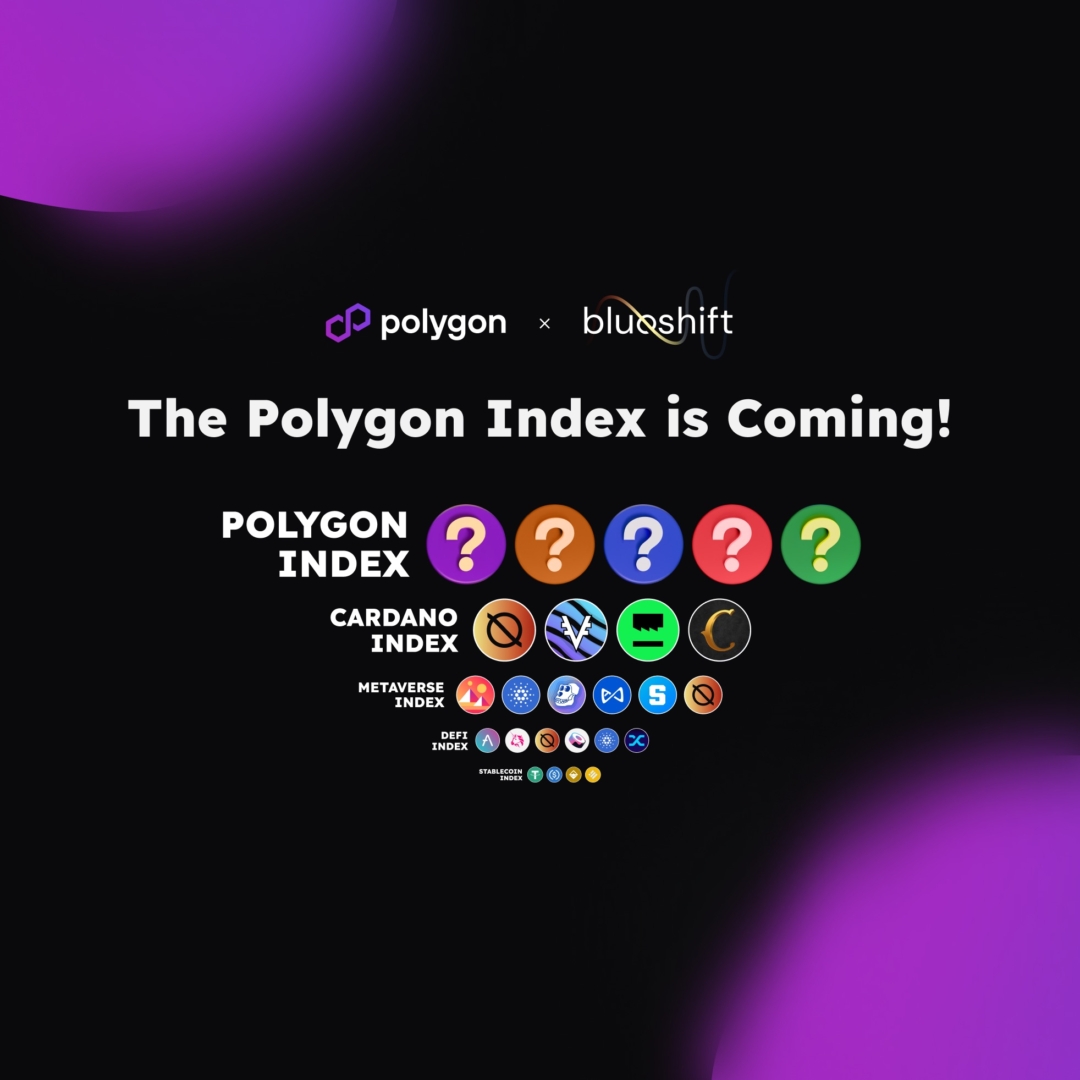 The Blueshift team is dedicated to building something exceptional for the Polygon ecosystem by developing the Polygon Index in partnership with the Polygon Foundation. This Index will serve as a representation of Polygon's strength and growth, and we invite the community to participate in its creation.
Recently, Blueshift launched the decentralised exchange (DEX) on the Polygon mainnet, enabling users from the Polygon ecosystem to engage in DeFi activities within the Blueshift ecosystem. Our innovative cross-chain portfolio-based DEX offers several advantages making using our platform faster and more capital efficient.
Our current focus is on the development of the Polygon Index. This portfolio will consist of tokens from the top projects within the Polygon ecosystem and will accurately reflect its robustness and expansion. We seek the community's assistance in identifying the projects that should be included in the Index.
The Success of the Cardano Index
Blueshift previously created the Cardano Index in 2022, and its successful launch was made possible through close collaboration with participating projects. This collaboration allowed us to raise awareness and enhance the usage of the Index and participating projects. During the engagement phase, we received overwhelming community feedback with over 100,000 video views, 4,500+ likes, 1,200 retweets, and 850+ comments across various posts.
Community Engagement
Community input is vital in determining which projects should be included in the Index. By working closely with these projects, we aim to offer users an innovative portfolio. This comprehensive approach ensures that only the highest-quality projects are included in the Polygon Index.
Polygon is an exceptional layer-2 blockchain that fosters innovation, fast transaction speeds, low fees and exhibits significant growth. At Blueshift, we strive to showcase the best projects within the Polygon ecosystem through the Index, enlightening other blockchain and crypto communities about Polygon's strength and potential.
Our Criteria Process
Our project evaluation process follows a qualitative and quantitative approach. While the criteria evolve over time, the process includes a thorough analysis of qualitative, quantitative, and community engagement metrics. We consider factors such as project roadmap, team profile, use cases, tokenomics, the market capitalisation of the circulating supply, social media engagement, and the opinions of influential figures within the Polygon ecosystem.
We are actively engaging with projects to add them to the Polygon Index potentially. This rigorous process ensures that only projects of the highest quality are considered.
Why Get Listed?
Listing a project on the Polygon Index offers several benefits for those seeking growth and expansion. These benefits include:
Marketing Exposure & Increased Visibility:
Projects listed on the Polygon Index gain enhanced marketing exposure through Blueshift's platforms. We conduct AMAs, interviews, and social media campaigns to drive interest and adoption of the Index. The Polygon Index increases visibility within the Polygon ecosystem and other connected chains, potentially leading to higher trading volumes and liquidity for listed tokens.
Cross-Chain Exposure & Trading
Listing on the Polygon Index exposes projects to other blockchains, providing additional exposure and opportunities where being on one single chain may be limiting.
Funding Partners:
Projects listed on the Polygon Index gain access to Blueshift's funding partners, which can provide additional capital and resources for growth.
These key benefits make listing projects on the Polygon Index an appealing opportunity for projects looking to expand their reach and liquidity. With the right strategy, listed projects can gain significant exposure within the Polygon ecosystem through the Index.
If you want your token listed on Blueshift DEX, please contact us at xena@blueshift.fi. We are eager to assist you throughout the process. Thank you for considering Blueshift as your DEX partner.
We look forward to hearing from you.
About Blueshift
Blueshift is a cutting-edge cross-chain decentralised exchange that uses portfolio pools instead of regularly traded liquidity pairs. Swaps in Blueshift portfolios are efficient as they can form virtual pairs within a portfolio using deep liquidity to reduce slippage. The portfolio DEX allows for simple single-token liquidity provisioning making for a simple and easy user experience.
In addition to its unique approach to portfolio-based swaps, Blueshift also offers cross-chain interoperability, allowing users to swap tokens across different chains without the need for bridges or wrapped tokens. By connecting its DEX and protocol to other chains, Blueshift enables users to access an ever-expanding selection of tokens within the broader cryptocurrency ecosystem. With Blueshift, you can swap directly for more and more tokens, regardless of the blockchain they reside on. This cross-chain functionality positions Blueshift as a versatile and powerful platform for anyone looking to exchange tokens quickly and efficiently.
Be sure to visit our website, https://blueshift.fi, join our Discord and follow us on Twitter to keep up with our launch. We're looking forward to seeing you in our community.
About Polygon Labs
Polygon Labs develops Ethereum scaling solutions for Polygon protocols. Polygon Labs engages with other ecosystem developers to help make available scalable, affordable, secure and sustainable blockchain infrastructure for Web3. Polygon Labs has initially developed a growing suite of protocols for developers to gain easy access to major scaling solutions, including layer 2s (zero-knowledge rollups), sidechains, app-specific chains and data availability protocols. Scaling solutions that Polygon Labs initially developed have seen widespread adoption with tens of thousands of decentralized apps, unique addresses exceeding 261 million, over 1.4 million smart contracts created and 2.7 billion total transactions processed since inception. The existing Polygon network is home for some of the biggest Web3 projects, such as Aave, Uniswap, QiDao and OpenSea, and well-known enterprises, including Robinhood, Stripe and Adobe. Polygon Labs is carbon neutral with the goal of leading Web3 in becoming carbon negative.
If you're an Ethereum Developer, you're already a Polygon developer! Leverage Polygon's fast and secure txns for dApps you develop, get started here.
Website | Twitter | Developer Twitter | Telegram | LinkedIn | Reddit | Discord | Instagram | Facebook