Why Does Blueshift Expand to Algorand?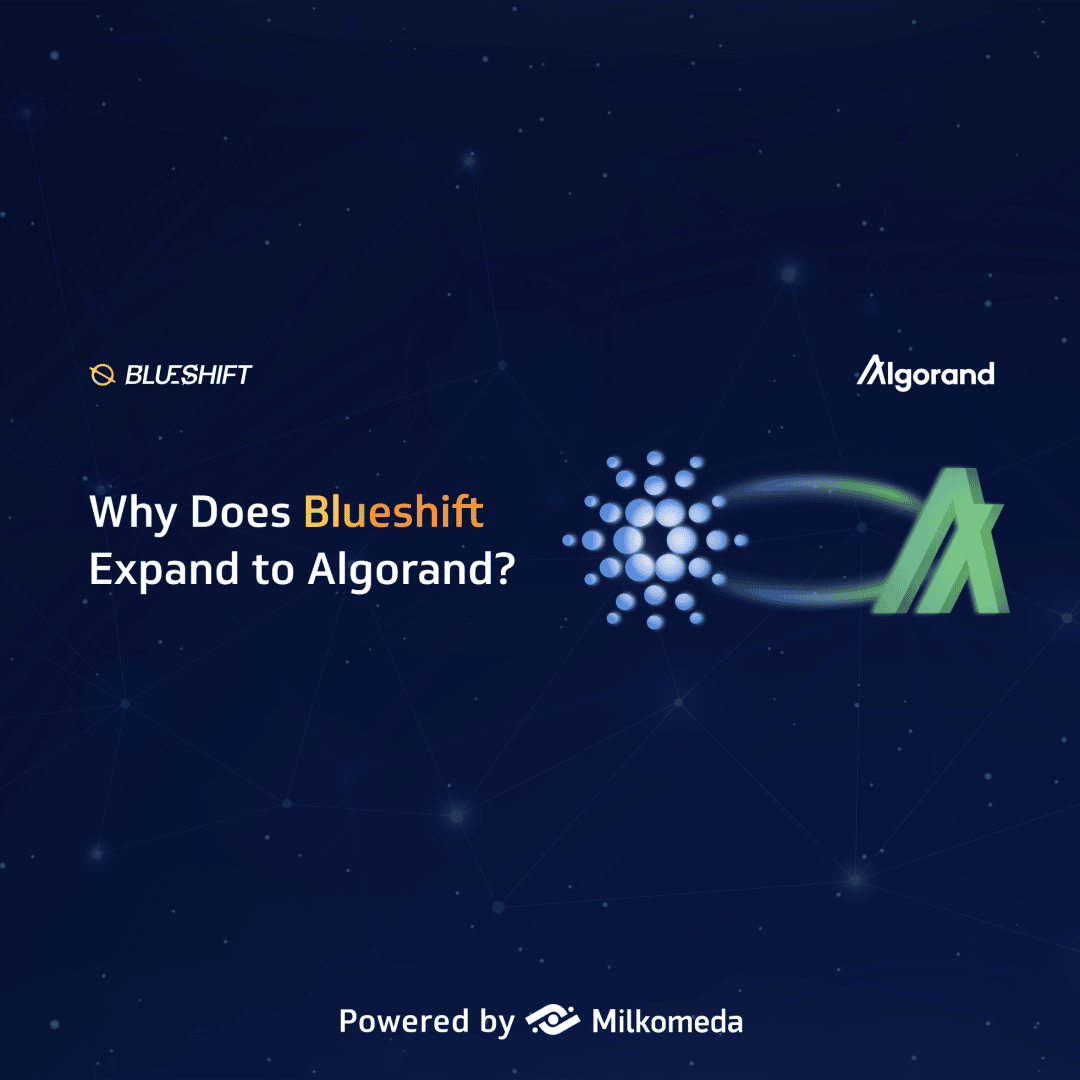 We're extremely excited to be expanding our decentralised exchange to the Algorand ecosystem and exposing portfolio-managed pools to new users.
Blueshift is already deeply tied into the Cardano on many levels. Starting with being launched on the Milkomeda C1 side chain for Cardano and even staking liquidity to various mission-driven stake pools within the ecosystem.
Expanding to Algorand with Milkomeda's deployment of the Algorand A1 roll-up made sense to the team due to the many synergies between the two chains.
Synergies Between Algorand and Cardano
The majority of crypto enthusiasts tend to live in their own bubbles, complexly unaware of what other chains are achieving. Algorand and Cardano are two chains that are hitting similar goals with similar approaches that should be noted.
Proof of Stake
Both chains use a model of Proof of Stake as opposed to Proof of Work to form a consensus on the chain. Algorand uses Pure Proof of Stake (PPoS), while Cardano uses the Ouroboros mechanism for its Proof of Stake (Pos) mechanism. Both models bring a lower energy footprint compared to older blockchains such as Bitcoin, Litecoin or even Doge.
Carbon Neutral
Both chains take a strong carbon-neutral stance, with Algorand being seen and marketed as a 'green' chain.
Cardano made efforts last year to raise funds to offset the blockchain's carbon footprint by raising funds to plant an entire forest. Nodes that power the blockchain also have a very low energy footprint compared to that of Proof of Work chains such as Bitcoin.
Academic Approach
Cardano and Algorand have taken an academic and peer-reviewed approach to design and developing their blockchains as opposed to a startup mentality of building fast and fixing later. Both had pros and cons, but we believe a well-thought-out plan with research behind it will stand the test of time. Since we're developing the frameworks for a new financial system, we see that this is highly important to get right. Both chains work closely with research hubs at Universities around the world.
Smart Contract Capabilities
Both chains have smart contract fundament allowing them to have capabilities for decentralised finance, non-fungible tokens (NFTs) and various borrowing and lending protocols. We've seen phenomenal growth of smart contracts and DApps on both ecosystems.
EVM Enabled
And now, with Milkomeda present in both chains, we have Ethereum Virtual Machine (EVM) capabilities on both chains bringing in more developers, decentralised finance protocols and options for both chains.
Blueshift is looking forward to growing alongside both chains, simultaneously bringing our own unique technology to the mix.
To find out more about our DEX, please check out our website at https://blueshift.fi, join our Discord and follow us on Twitter.